LEGO is loved by people young and old, it's one of the most popular toys in the world and there's a reason for that, it's so damn fun and the possibilities are endless. Sometimes though when there are so many LEGO® building ideas to pick from it makes it very hard to decide what to do!
I have crawled the internet to find the best ideas for fun things to build, it's easy to get a little stuck when you can't decide what to make, which is why we decided to put together this list of 25+ cool LEGO® creations to help you keep busy!
Key Takeaway
– Lego building ideas can range from adventure games to creative storytelling and even puzzles.
– Consider VR/AR games, building sets, puppet shows, board games adapted for Lego bricks, educational/STEM activities, and more.
– Get creative and have fun when it comes to exploring all the possibilities of Legos!
– Mix and match elements from different sets to create custom builds or use them for art projects like mosaics or sculptures.
– Utilize interactive mobile apps such as Magic Bricks and Build With Chrome to make your Lego experience even more exciting.
This list will help you find new and interesting ways to enjoy time with your family during lockdown using LEGO®! Have fun!
Things To Look For In LEGO Building Ideas
LEGO City Undercover or LEGO DC Super-Villains are popular options that offer engaging stories and exciting gameplay.
VR/AR games such as LEGO Batman 3, LEGO BrickHeadz Builder, or LEGO Ninjago Movie – Cole's Mech -70632 also provide immersive and interactive gaming experiences.
Building sets such as a Lego castle or house are great for group activities with family members.
Puppet shows can be fun to put on with your own Lego Mini Figures for a unique form of entertainment.
Consider looking into classic board games which have been adapted to be played with Lego bricks for a twist on the old favorites like The Force Awakens,
Educational and STEM activities such as Robotics engineering with LEGO Mindstorms sets.
Creative building challenges that get people to think outside the box.
A variety of themed adventure games like LEGO Worlds, or Mario and Friends.
A range of Lego construction sets from Technic to City buildings.
And even a few puzzles or mathematical problems using the bricks!
Creative storytelling with LEGO DUPLO or LEGO Classic sets.
Musical building challenges such as a LEGO xylophone.
Interactive mobile apps like Magic Bricks and Build With Chrome.
Competitive challenges involving speed builds and timed runs.
Introductory courses and tutorials for building basics.
Customized builds by mixing and matching elements from different sets.
Artistic creations like mosaics, sculptures, and portraits are made with bricks.
These are just some of the things you can consider when looking for Lego building ideas, but there are countless other possibilities to explore! Get creative, have fun, and keep building!
List of 34 LEGO® Building Ideas
1. Build a LEGO® catapult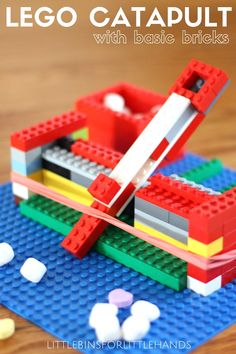 This is an amazing idea that will keep you busy for hours. Why not create a LEGO® catapult of LEGO® building or some sort with minifigures on top standing guard and try and use your catapult to knock them down?
Source: Pinterest
2. Build a LEGO® Plant Pot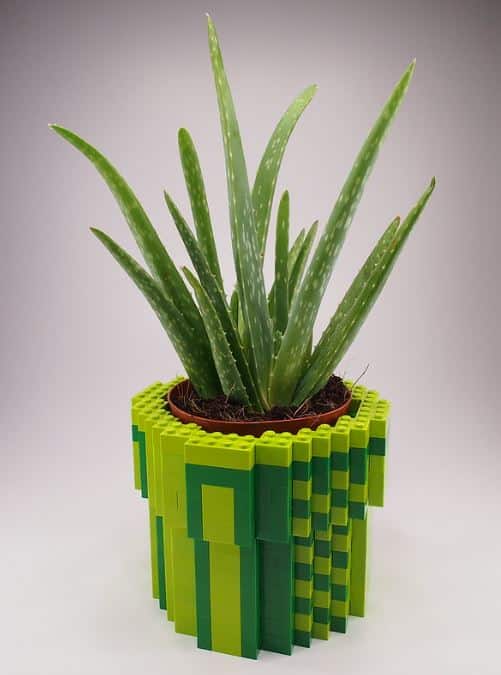 How many plants do you have around your house? Let's be honest every other plant pot in comparison to this one is going to be rubbish! Use the massive selection of colored bricks to brighten up your house.
Source: Flikr – H.Y.Leung
3. LEGO® Ice Excavation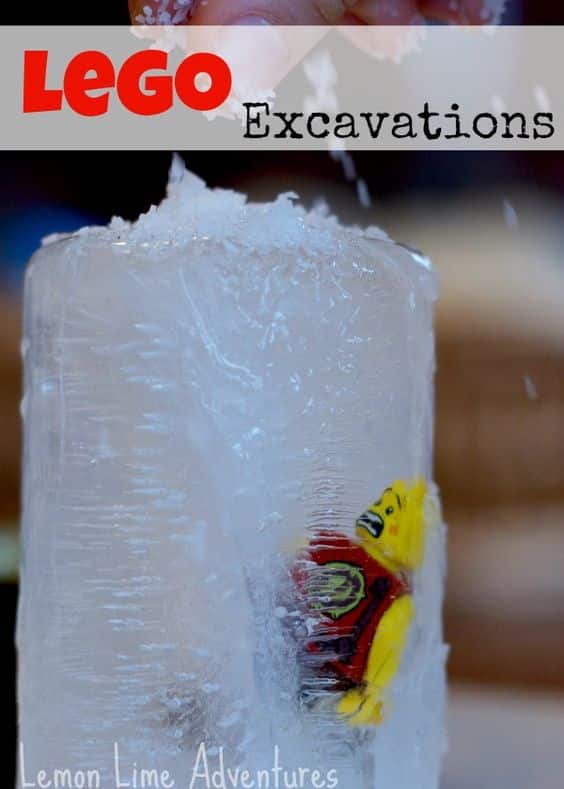 This is a great activity for a hot summer's day, take a minifigure and pop him in a jug of water, and freeze. Let them pretend to be an archaeologist excavating using toothpicks, salt, or warm water to melt down the ice and find the minifigure inside!
Source: Pinterest
4. LEGO® Challenge Wind Racer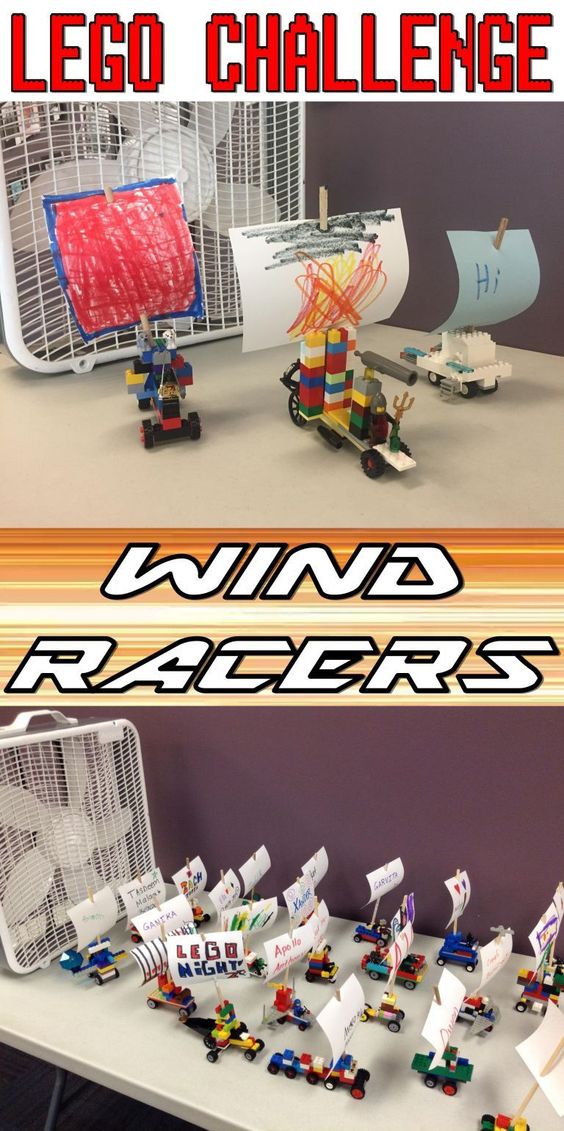 This is a nice and simple one that will keep the kids occupied for hours. All you need to do the challenge are lose LEGO® bricks, paper, a stick that can be used for the mast, and a fan. The one with the best LEGO® building skills WINS!
Source: Pinterest
5. Get a LEGO® MOC From Our Shop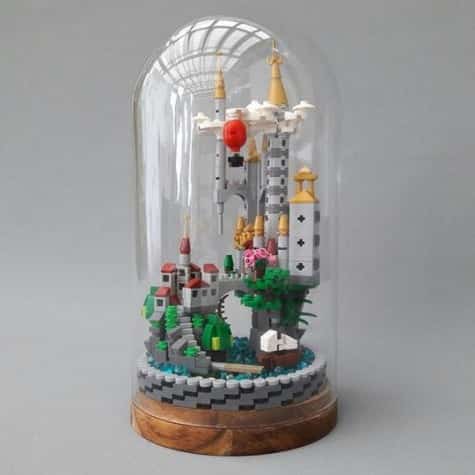 We have loads of LEGO® building ideas in our shop, take a look and you will have an endless supply of buildings to keep you all busy. If you want some help getting any bricks that do not have at home you can check out our blog which walks you through using BrickLinks wanted list feature.
6. Make Some LEGO® Jewellery
Feeling adventurous? Why not see if you can start a new trend with LEGO® earrings or necklaces… this one is not really for kids unless supervised by an adult. Click the link below for a step-by-step guide on how to make your own!
Source: Instructables – Jessyratfink
7. Make a LEGO® Photo Frame
Do you have a lot of photos in your house? Perhaps it's Mother's Day, Father's day, or any other special occasion coming up. Why not use your LEGO® building skills to make this one today? It's nice and simple but if you get adventurous you could personalize this very easily.
Source: Dad vs Wild
8. Build a LEGO® Volcano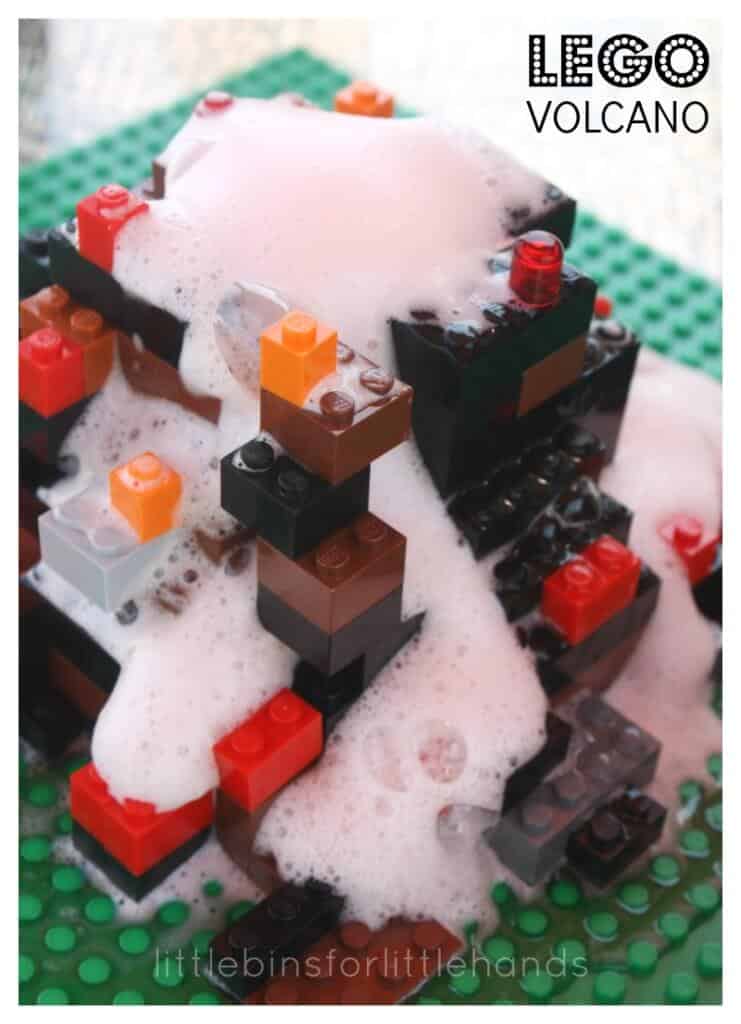 Did you ever do the volcano experiment at school? This experiment is so much fun but is warned it is very messy. If you want to teach your child about volcanoes or have a hands-on science session with them this is the perfect LEGO® building idea!
Source: Little Bins for Little Hands
9. Make Your Name In LEGO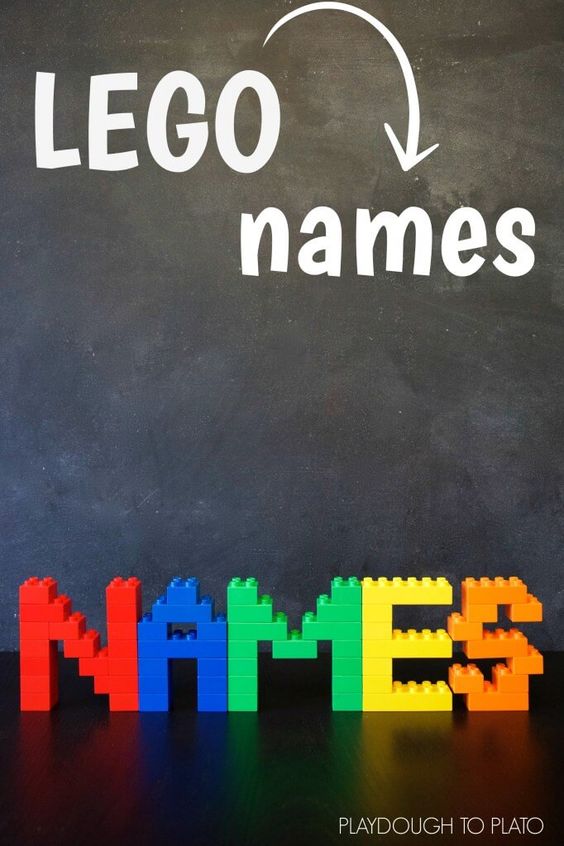 This is a simple but fun idea, some easier than others depending on your name! You could even glue them together once you are finished and stick them to your bedroom door or up on a shelf somewhere. Get creative and see how cool you can make your name!
Source: Pinterest
10. Make a LEGO® Puzzle Box
Build this and keep your friends and family busy trying to figure out how to solve the puzzle. This is a great video that gives you step-by-step instructions, another simple by the very cool idea!
11. Build Yourself a LEGO® Vending Machine
I have seen these around a few times now but have not actually found instructions on how to build one, this video does a great job of showing how to build a vending machine. Why stop at building just a vending machine, why not build loads of different types of vending machines and create your own store?
Source: YouTube – pieproductions1999
12. Build a Mini LEGO® Soda Machine
There are so many good tutorials on YouTube, this is another example of one that is awesome!
Source: YouTube – BRICKS TUTORIALS
13. Make All Your Friends Friendship Bracelets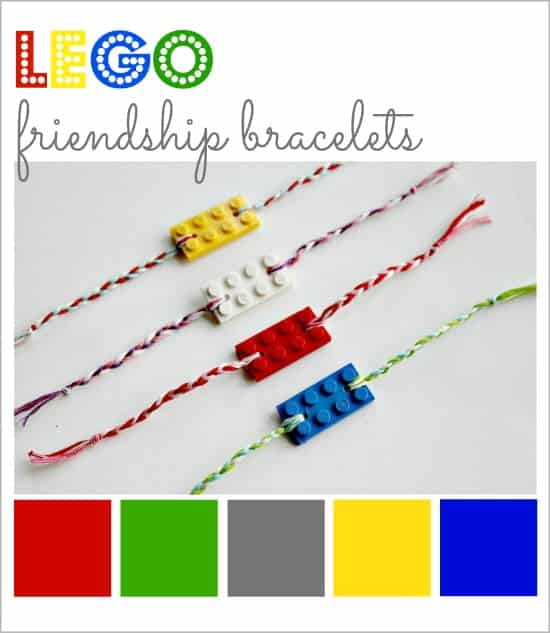 This is a great last-minute cheap idea that you can give to any of your friends.
Source: thecentsiblelife
14. Build LEGO® Balloon Cars and RACE!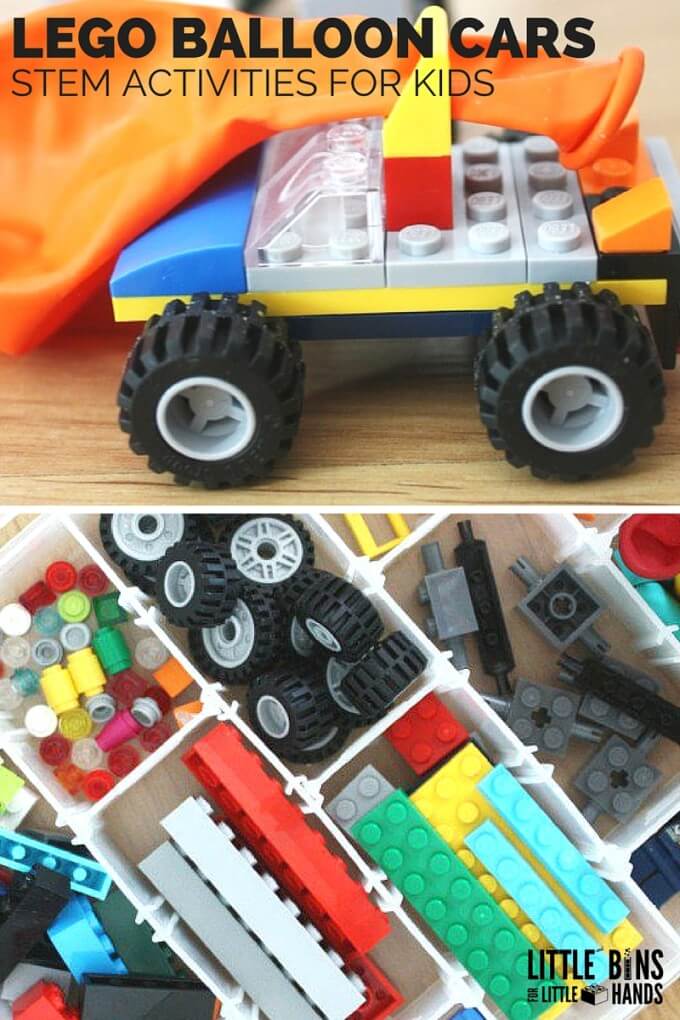 There's nothing like a bit of competitive racing… make these cars, blow up your balloons and off you go! Why not make it so the loser has to take a challenge or forfeit 😉
Source: LittleBinsforLittleHands
15. Build Your Own LEGO® Chess Set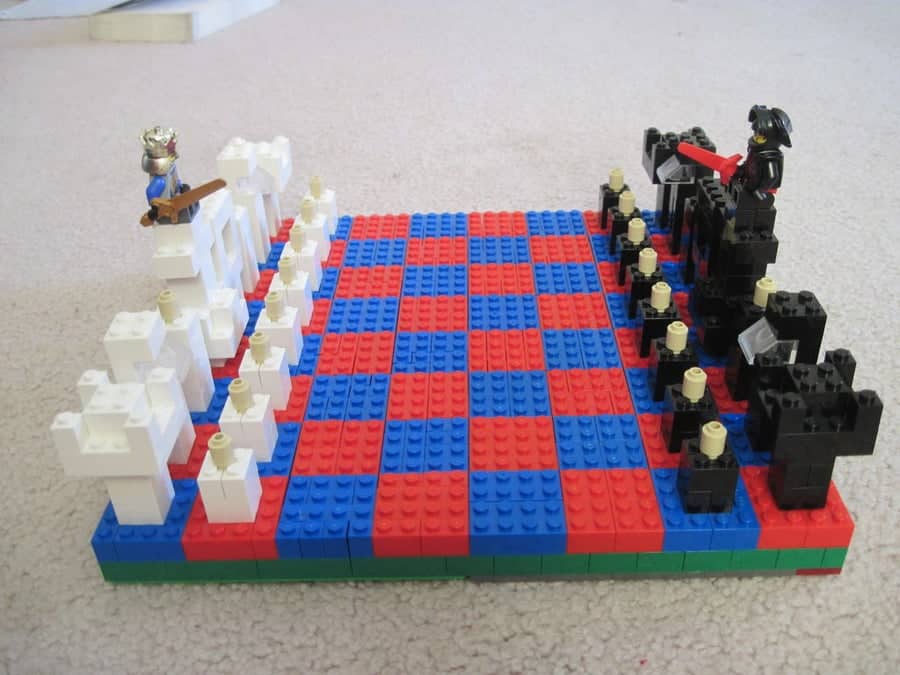 Are you any good at playing chess? Perhaps this will appeal to you if you like the odd game or two… Don't feel that you have to stick to the conventional pieces, why not get creative?
Source: Instructables – chessman908
16. Make Yourself a LEGO® Clock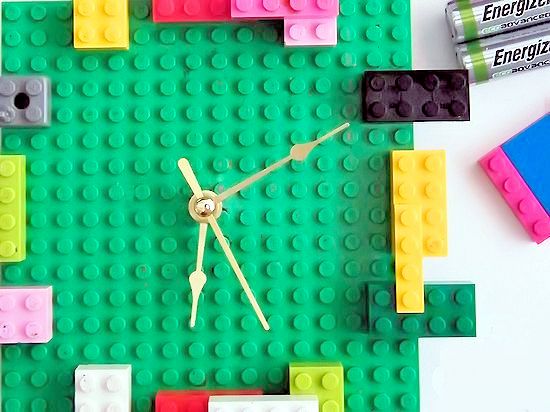 If you have a spare clock in the house this is a must DIY project for you to do! I have seen some like this one and somewhere people have used their favorite minifigures to replace the numbers around the clock.
Source: OurKidThings
17. DIY LEGO® Birdfeeder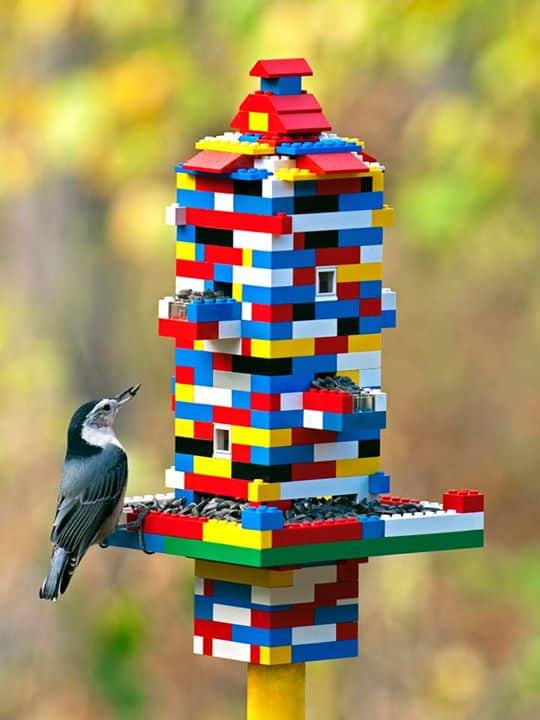 This must be the most colorful birdfeeder I have ever seen, the best thing about it is because it's LEGO® you can make it as big and extravagant as you would like. You can also make it, so it fits the space you have too. I wouldn't advise gluing it together though and I wouldn't advise handing it up otherwise it could end up in pieces when one of the birds lands on it!
Source: FunCraftsKids
18. DIY LEGO® Coasters For Hot Drinks
These are great if you are a person who drinks hot drinks like tea, coffee, or hot chocolates. These inexpensive coasters will protect your table, give enjoyment whilst making them and look damn cool too. Try out a few different patterns to see what looks best…
19. Patch Up Your Brickwork With LEGO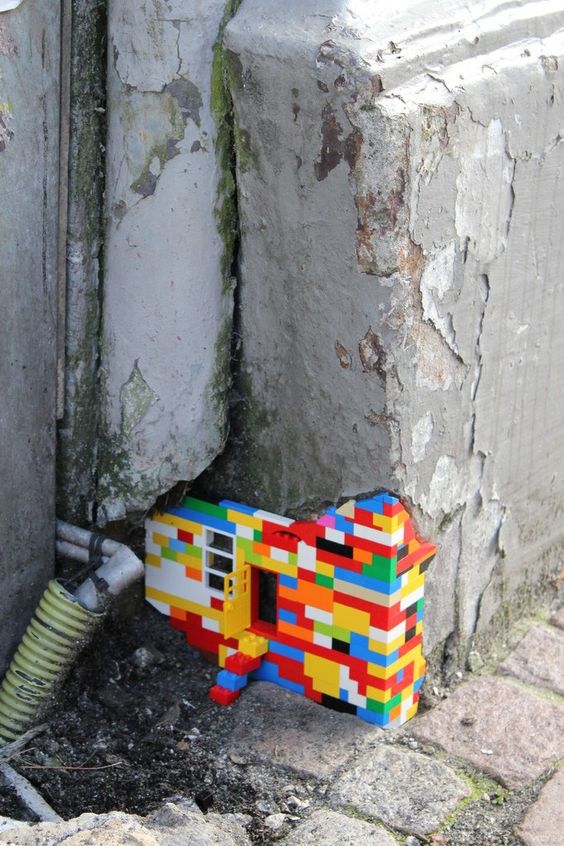 There are some cool patch-ups you can find all over the internet. Jan Vormann started a big trend with this, why not join him and get some LEGO® brickwork patching done at your house… Just don't go around smashing your walls to do it and if you don't blame me!
Source: Pinterest
20. Make a Working LEGO® Minifigure TV
Ever wanted to give your minifigures a home cinema? Well, now you can with this great build!
Source: YouTube – Let's Do This
21. Make a Simple LEGO® Mobile Phone Stand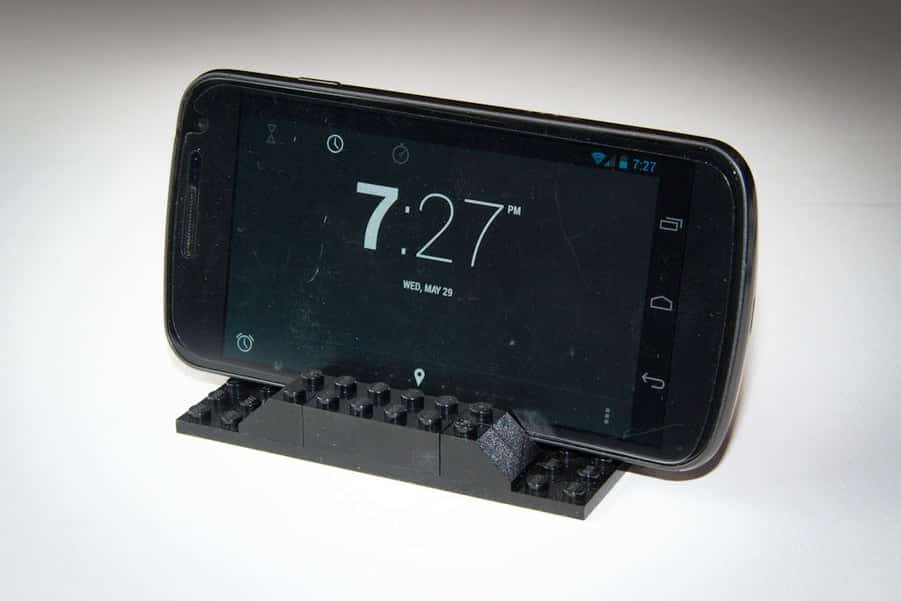 This is a really simple build but it does the job!
Source: Instructables – crosendahl
22. DIY LEGO® Fidget Spinner Holder
Do you still have a fidget spinner laying around? If so you might like this LEGO® building idea to save you from having to hold it…
23. Tidy Your Cables Using LEGO® Minifigures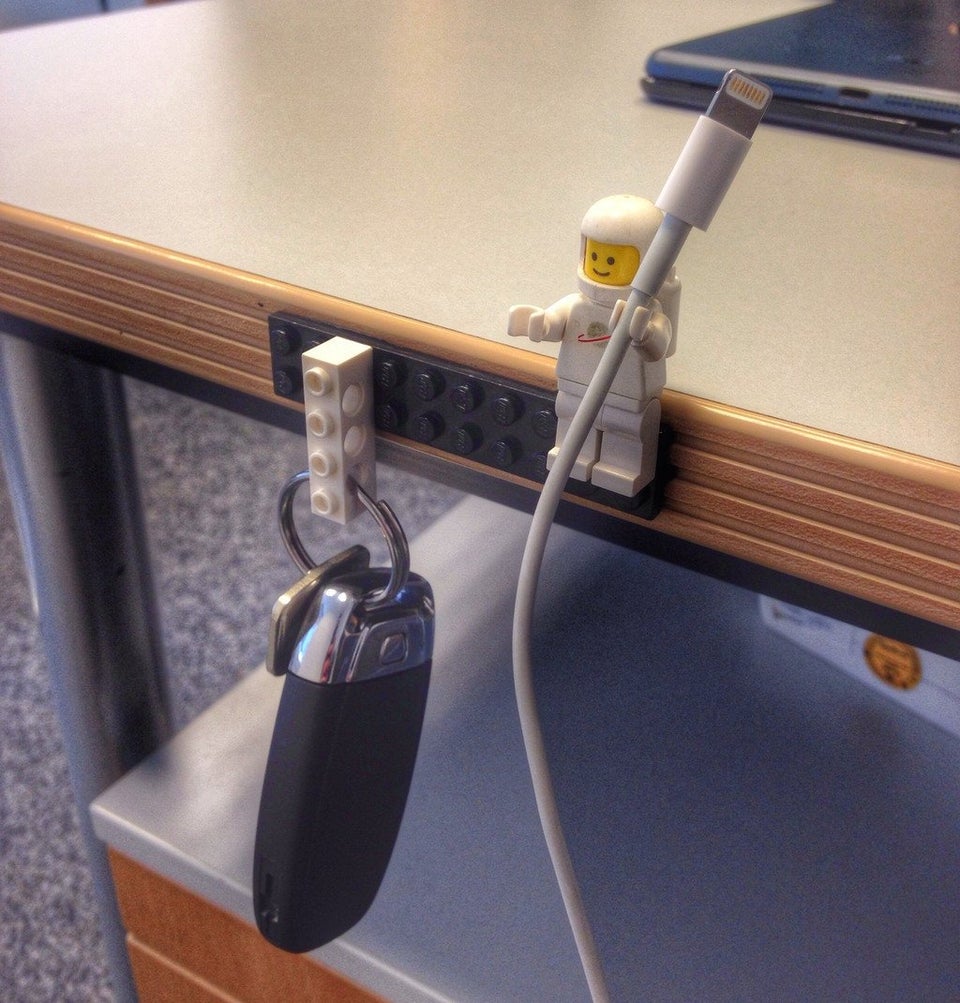 What a great LEGO® hack this is, with one piece of LEGO® and a minifigure you can keep two cables tidy and hang your keys on them!
Source: Reddit
24. LEGO® Sweet Dispenser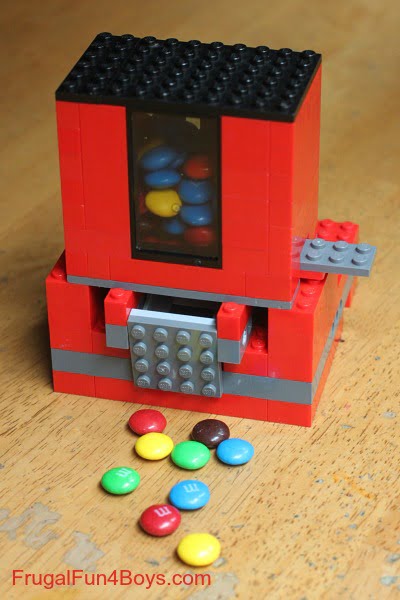 What an amazing design, one that you know for certain every child (and adult) will absolutely love building and playing with afterward!
Source: FrugalFun4Boys
25. DIY LEGO® USB Stick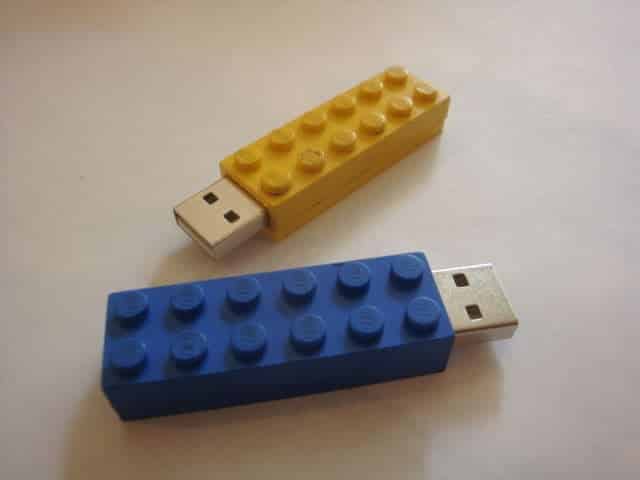 A great way to modify your USB stick so it fits inside a LEGO® brick!
Source: Instructable – Emsaid
26. LEGO® Soap and Hand Sanitiser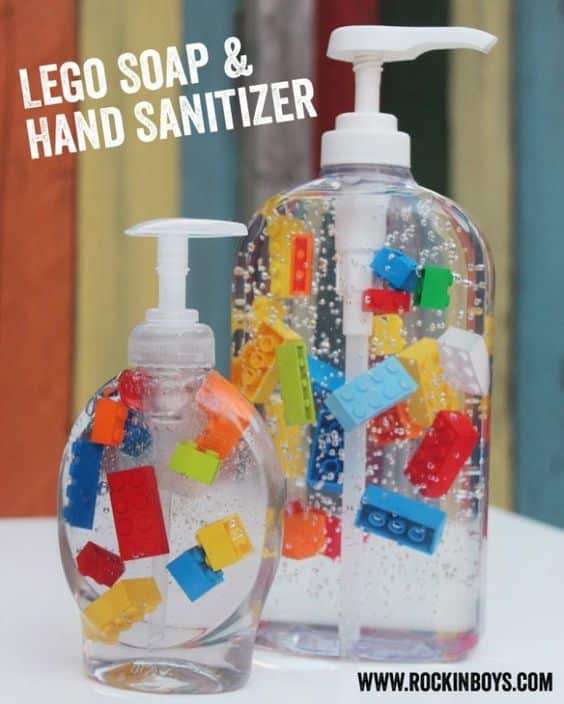 What a great way to encourage children to wash their hands, why not let them pick the pieces to go in there or even let them pick a minifigure to pop in? You can always wash it afterward and at least you know it will be clean!
Source: Pinterest
27. DIY LEGO® Cufflinks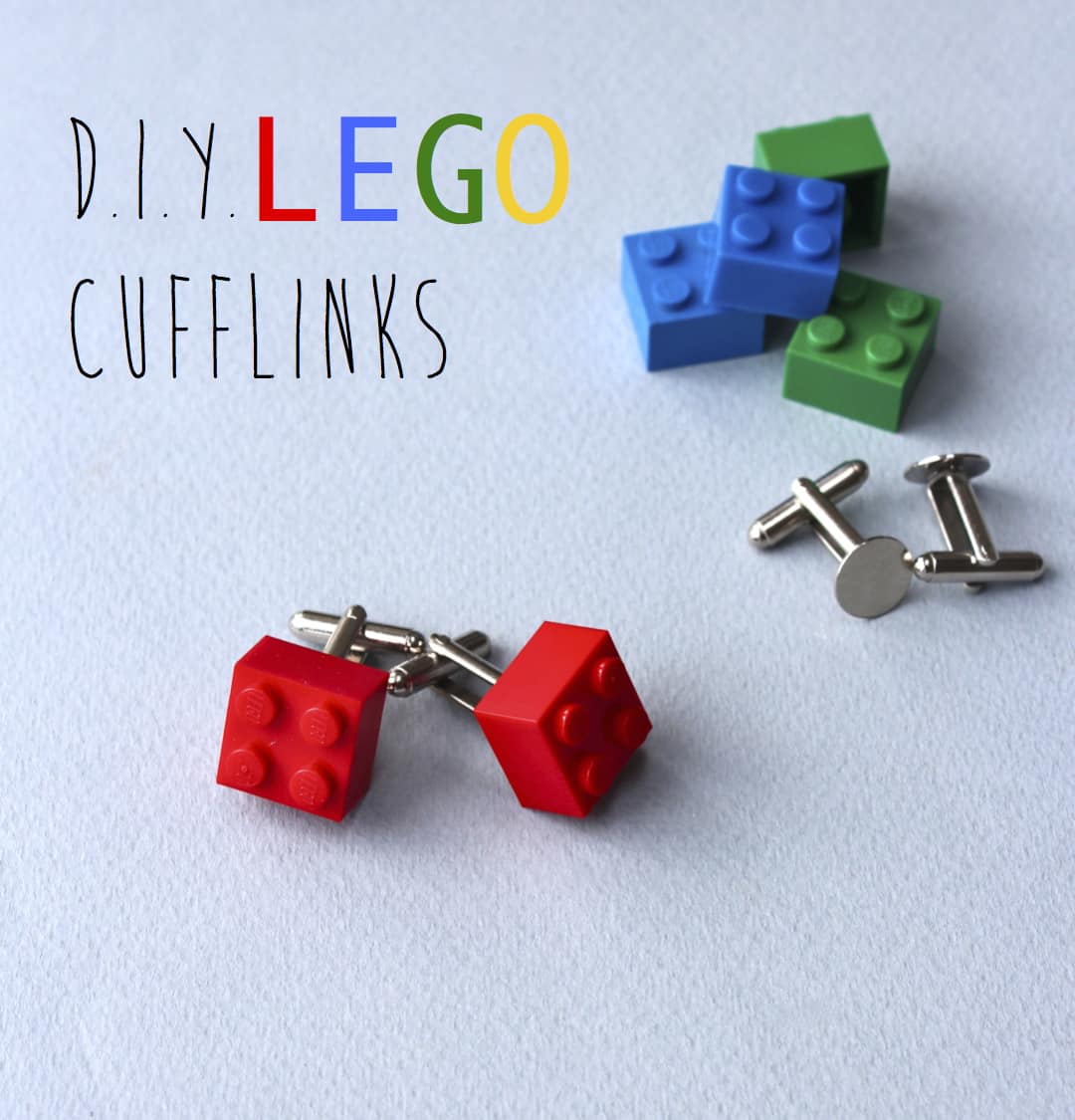 These are a brilliant addition to any LEGO® lover's wardrobe or a perfect gift for Father's Day or a special occasion. This is one that adults and children can enjoy making together or apart, either way, it's just a great DIY idea.
Source: KatesCreativeSpace
LEGO builders can use this opportunity to challenge themselves with the most fascinating LEGO® ideas and enjoy the best that LEGO® has to offer. A standout amongst the many commitment of the LEGO® franchise is to create building sets that everyone can enjoy.
So if you are looking for cool ways to keep your family engaged in your state or city, the following ideas will help you stay engaged. You can achieve everything listed on this page with your family and reward yourself with a unique masterpiece. Without any further ado, these are the top LEGO® ideas to achieve with your loved ones.
28. Build a LEGO® car with your family
We all love cars; small ones, big ones, even the rugged ones, and we have the perfect car to build with your family. You guessed right, it's the LEGO Mercedes Benz Arocs. The LEGO® Mercedes Benz Arocs is a beastly truck donning beastlier wheels. This gigantic truck has been broken down into 2793 LEGO® pieces to give you and your family a fantastic building experience. Though challenging and tedious, the LEGO® Mercedes Benz Arocs will blow your mind away with its beauty and appeal. Even your four-year-old can join in the fun of building this enormous set. You can even add lights to your creation and transform the set into an iconic masterpiece. It is a relatively complex set, so take your time building it with your loved ones. You can also build cars such as the LEGO Land Rover Defender 42110, LEGO® 1989 Batmobile 76139, LEGO Fiat 500 10271, and LEGO Bugatti Chiron 42083.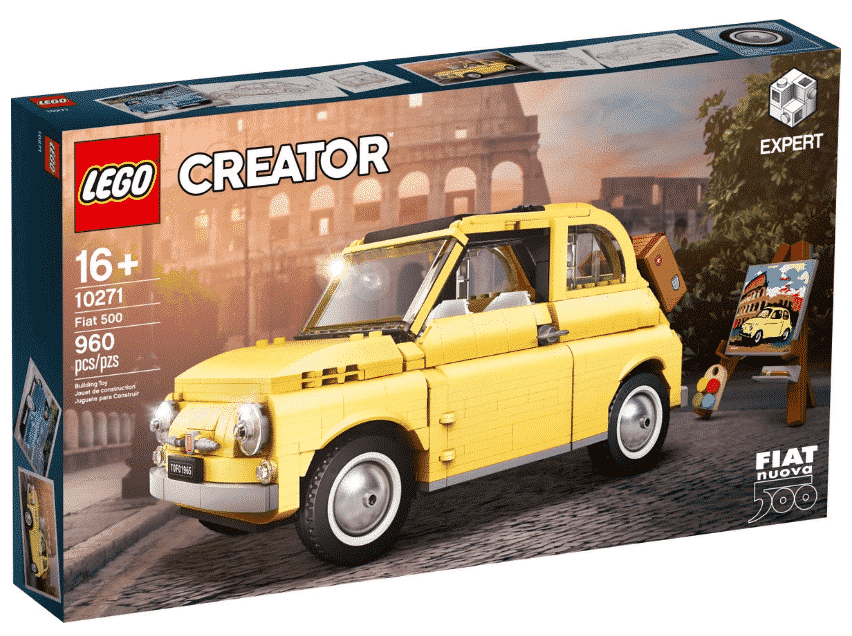 29. Throw A LEGO® birthday party
Social distancing or not, a LEGO-themed party is always a great way to relax and have fun. So if your birthday or anniversary falls in this period, don't feel like you are at a disadvantage. With LEGO, even the darkest days will seem bright. Go into your store or any other place you keep your LEGO® things and bring them out for a fun party with your family.
You can cut cardboard or paperbacks to represent LEGO® characters and assemble your favorite sets in a spectacular LEGO® gallery. Just make sure everything in your space resonates with the theme; LEGO. To make your party even more memorable, you can add different types of LEGO® games to the list of activities for your LEGO-themed party. Then finish off with a LEGO-Cake.
30. Watch a LEGO® movie
There are many fun LEGO® movies to watch that are all masterpieces in their own right. So have fun exploring the long list of movies offered by the LEGO® franchise as you create new memories with your family. If you are finding it difficult to choose a movie for your entertainment here are some cool LEGO® movies you can enjoy with your family.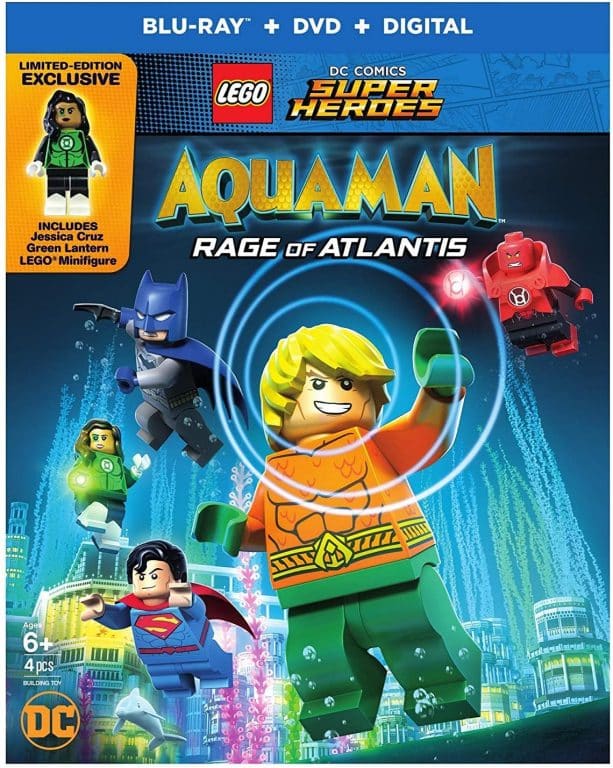 31. Bake A LEGO® Cake
What better way to build happiness in your home than to bake a delectable cake with your loved ones? Whether you are throwing a party or you are celebrating life with your favorite people, baking a LEGO-based cake can be fun. Besides, it is something everyone in the house can be a part of. You can have your kids help you with the stirring, the whisking, and even the beating of the eggs. LEGO® cakes are like your everyday cake; the only difference is how they are finished. Even if you have zero baking experience, you can create a delicious LEGO® cake in your home. All you need is an oven, fondant icing, baking soda, eggs, and a host of other cake-related materials. Whether you are creating a chocolaty cake donning gumdrops or a strawberry cake adorned with LEGO® mini-figures, you'll have to bake the cake first. The real work comes after baking the cake. Because then you'll have to coat the base cake with fondant icing and design the exterior to resonate LEGO. Most people don't get it right the first time, so don't feel bad if your cake doesn't come out as expected. It's all part of the learning process, so have fun making your baking mistakes and learning from them.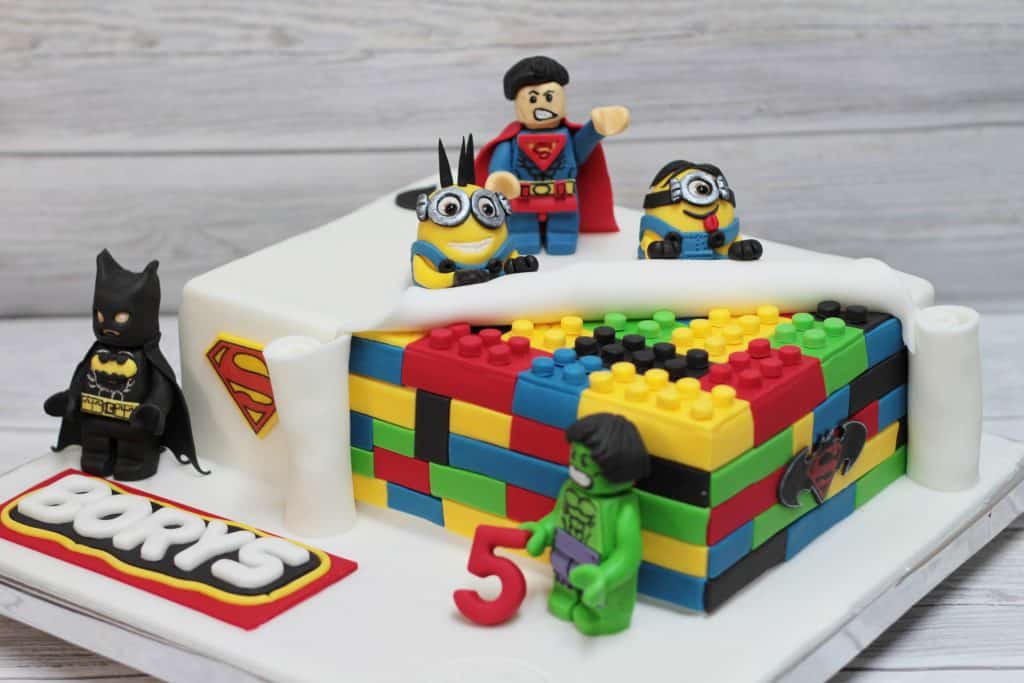 32. Play LEGO® games
Within the last five decades, the world has seen more innovation in the toy industry than it did in previous years. While we look forward to the holographical LEGO® games that will make the AR games obsolete, we should recognize the LEGO® games that are fun for LEGO® builders. If you are looking for action-packed adventure LEGO® games to entertain your family and keep you engaged during the social distancing period, here are some cool ideas to get you started.
Console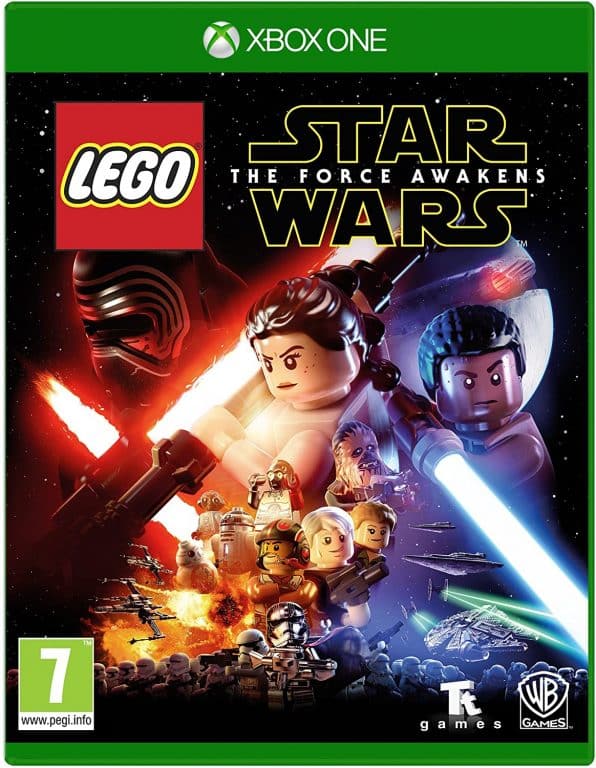 VR/AR
LEGO Batman 3; beyond Gotham
LEGO BrickHeadz Builder
LEGO Ninjago movie – Cole's Mech -70632
LEGO Dimensions
You can also play the good old games that don't involve a console or augmented display. They include;
LEGO hunt
LEGO guessing game
LEGO Building Challenge
LEGO design your mini-figure game
When it comes to fun LEGO® games, the list goes on and on. The important thing, however, is to pick a game that everyone involved can enjoy.
33. Build a LEGO® castle or house
With the lockdown, comes the need to have fun with your family, and you'll never run out of cool things to do with your LEGO® bricks. A standout amongst the many things you can do with your free time is to build a LEGO® house with your family. However, with the long list of fun sets provided by LEGO, you may have a hard time picking a LEGO® house for your LEGO® building experience. That's why we have taken the trouble of picking one for you; the LEGO stranger Things upside-down house 75810. The stranger things upside house will leave you mesmerized as you journey back and forth from the real world into the dark abyss of an alternate universe. Surely, strange things are bound to happen when you live in a strange house, and it doesn't get stranger than Hawking's house. Other cool LEGO® houses include;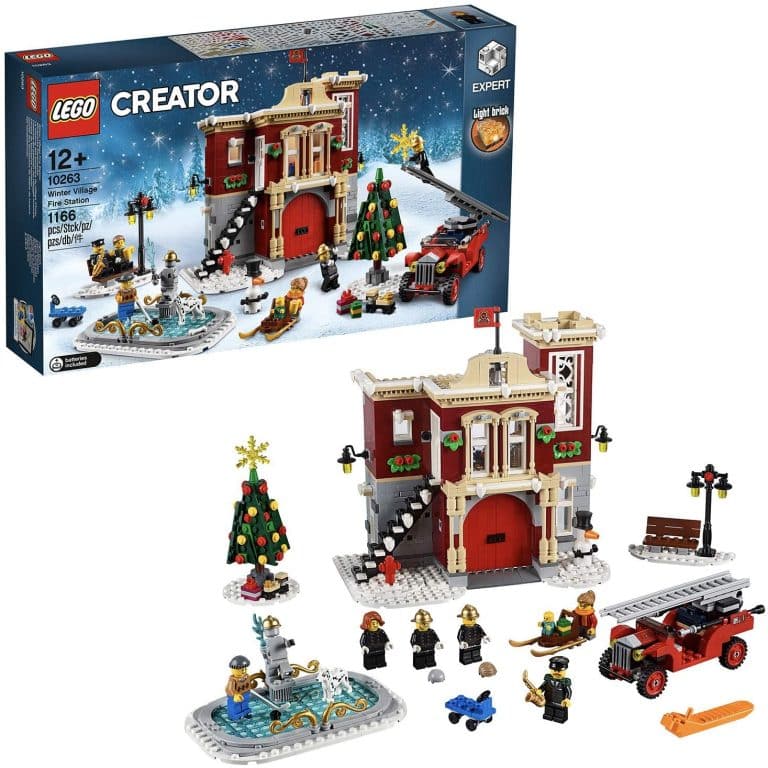 34.  LEGO puppet show 
Before motion pictures became a thing, puppet shows were the real deal. Even though they are limited in the portrayal of scenes and characters, these man-controlled puppets are still a great way to entertain your family during the lockdown.
As you'll be doing the puppet show with LEGO® bricks and mini-figures, you and your family are set to experience the most fascinating puppet show ever. All you have to do is to set the stage for the puppet show; with LEGO® bricks of course.
Next, get a slightly transparent paper or cloth and drape it over the empty area of the stage. The cloth/paper will serve as a screen for your show.
This is where the projected image of your puppets will appear. After setting up your LEGO® stage and screen, get your family to sit on the opposite side of the screen, and with the help of a light source (a regular flashlight will suffice), tell your story.
Conclusion
Time will not permit us to list all the fun and exciting LEGO® ideas you can achieve with your family during the lockdown. However, the few listed on this page can give you a big bang for your buck. To create fresh and exciting moments with your family during the lockdown, make sure you have your favorite LEGO® sets handy.