Disney's Encanto is one of the latest animated movies that has hit the world by storm, it's popular amongst adults and children with a wholesome story that is family orientated. LEGO® Disney have made no exceptions to this and have produced three amazingly magical sets that were released on 1st December 2021. We will take a look into the three LEGO® Encanto sets that were released and we will also dig in to the Disney Encanto Movie details too.
LEGO Disney Encanto Sets
On 1st December 2021 LEGO® released three LEGO® Disney Encanto sets, these included two fun smaller sets and a larger set which is the Madrigal House. Let's get in to the details of each of the sets released.
The first of the Encanto Magical Doors that we will take a look at is Antonio's Magical Door (43200), this is a great set that I would of loved when I was young!
This set is made up from just 99 pieces, this is the smallest set of all three that were released but just because its small it doesn't mean its not good. At just $19.99 this is a great set for children to play with and have a ours of endless fun, especially if you pair it with Isabela's Magical Door too.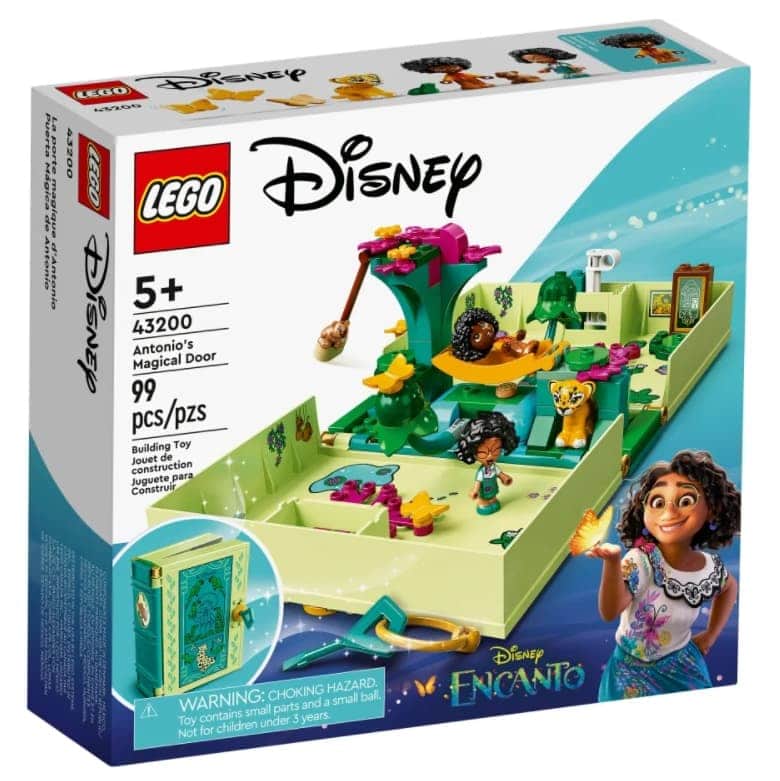 This set doesn't feature as much as Isabela's Door set but it does still have lot's of fun things to do, the set is designed inline with Antonio's room which is basically a jungle where the animals he talks to can live happily.
The playable parts in this set are the hammock which lifts up and down and the rope swing that also swing back and forth.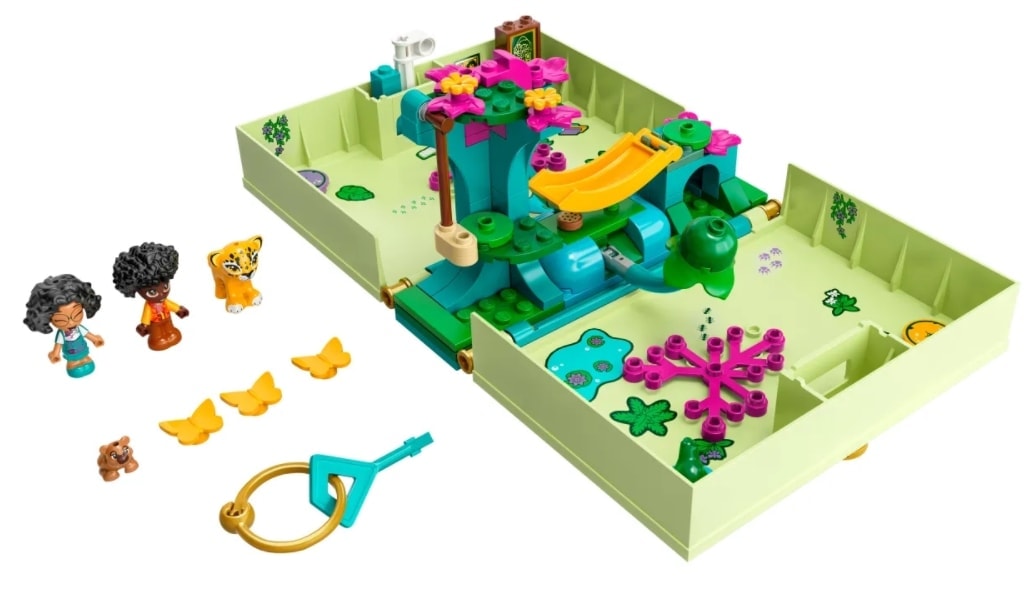 This set comes with two micro-dolls, Mirabel and Antonio, you also get three cute little animals with the biggest being the jaguar that he is seen riding around the house!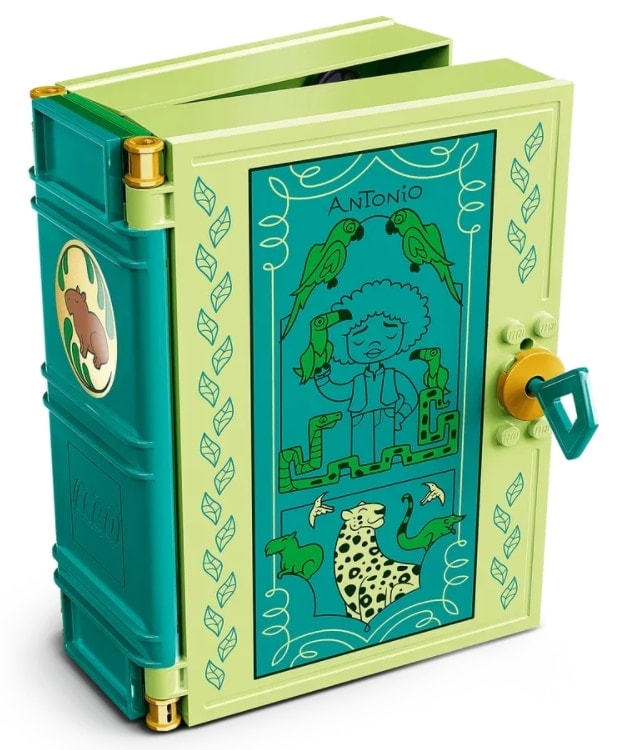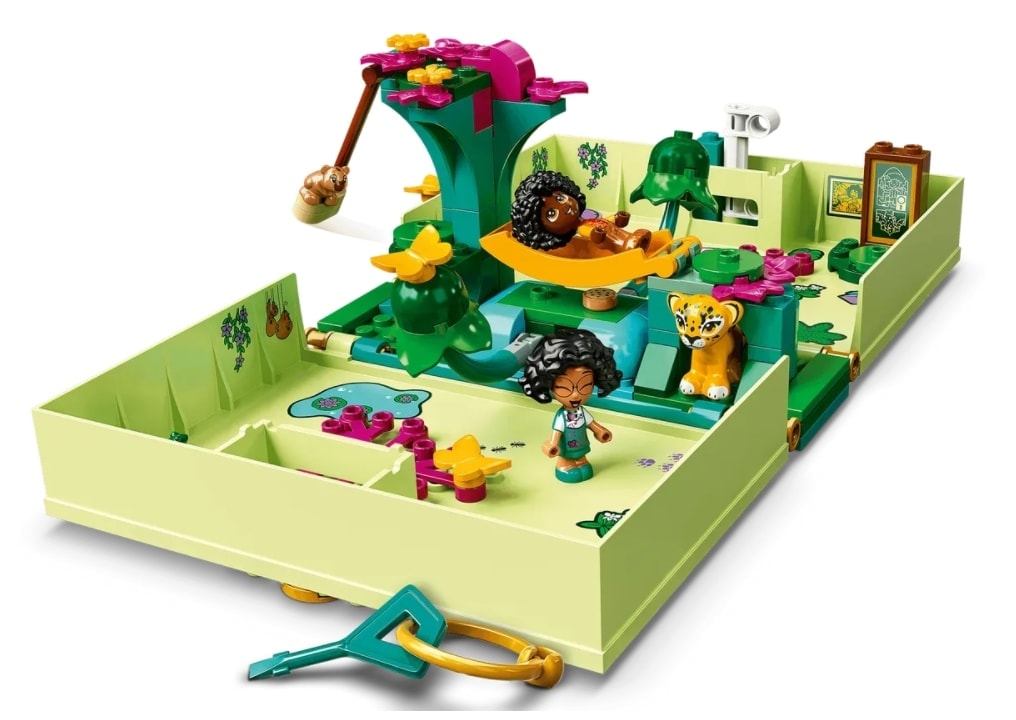 I am assuming that LEGO® tried to go with two smaller LEGO® Disney Encanto sets aiming at all children, the two Magical Door sets are clearly designed to be played with rather than the building being a main focus and they have done it well and at only $19.99 I think this is a great price for what you get.
Isabela's Magical Door (43201) has all the features in there to make it a lot of fun for any child who wanted to lose themselves in the Disney Encanto world. It is only made up from 114 pieces so for any child who loves the movie more than LEGO® or if they are just starting out getting in to LEGO® then this is the perfect set for them.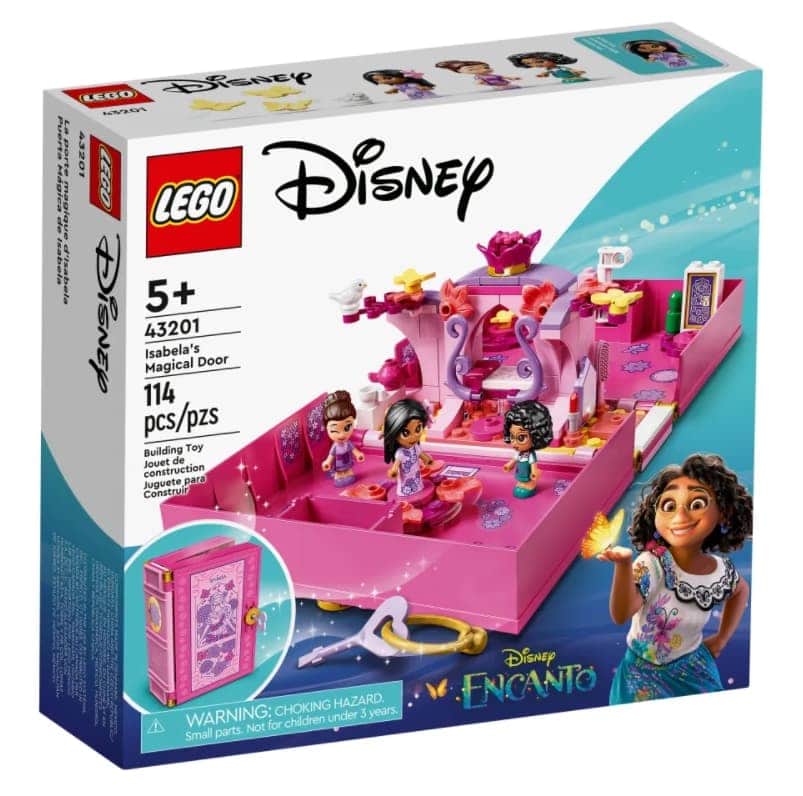 There are great features that are perfect for play time, get Isabela ready for the day with her mirror or spin her round and round making lots of flowers with her power.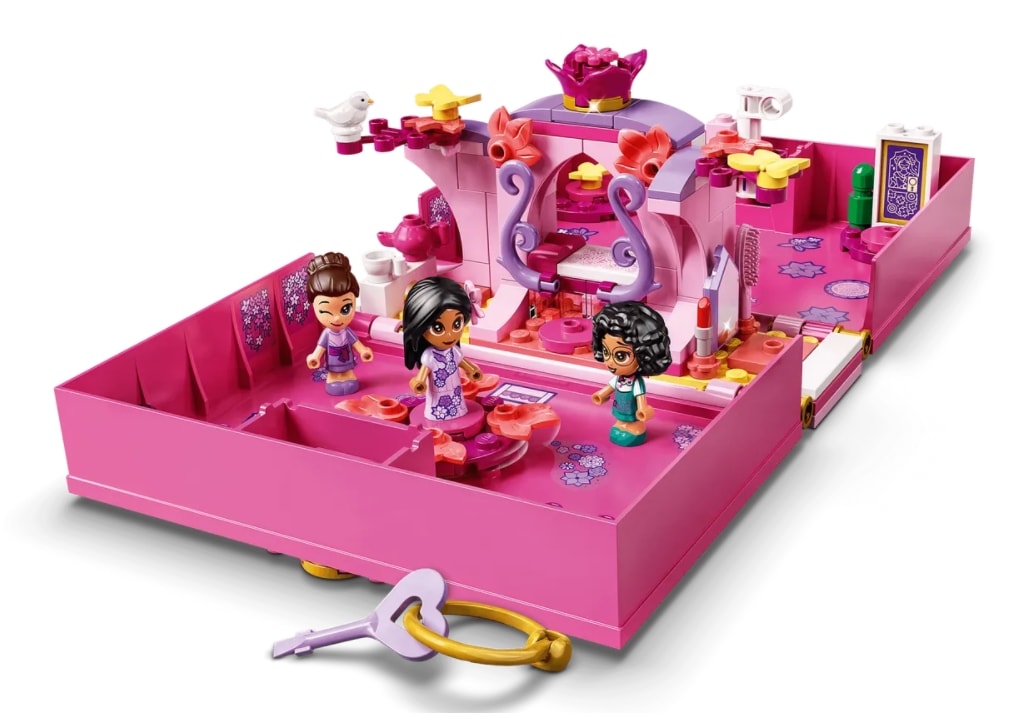 This small set comes with the three sisters as micro-dolls, these are Mirabel, Isabela and Luisa.

One thing I really like about these sets is how they have designed them with same decal on the front as they are in the Encanto Movie, the way everything fits snuggly and closes together with the key in the lock is a nice feature that they didn't need to do and shows that they have really kept the demographics of the customer in mind, it looks fun and the design is a convenient way to not lose pieces.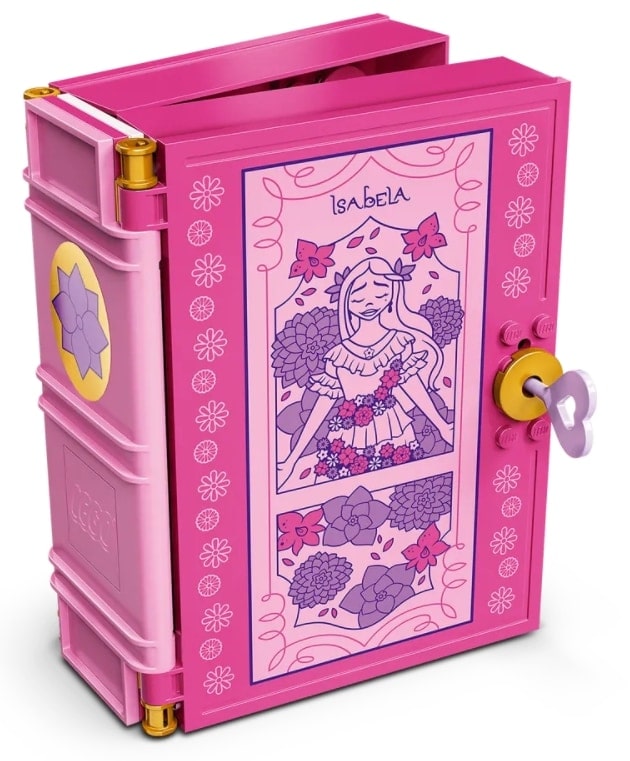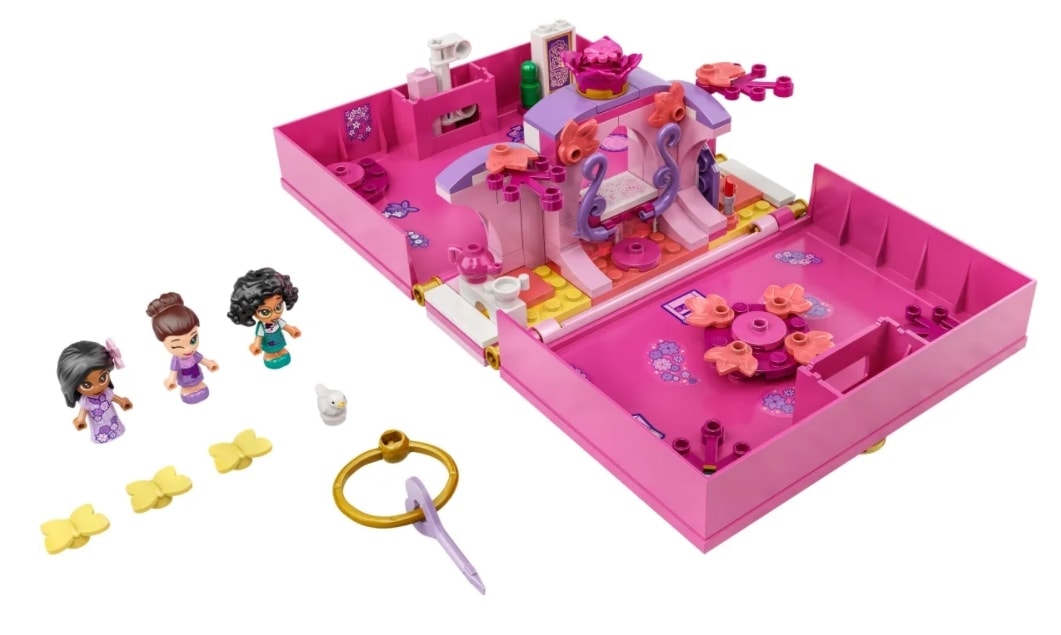 This is the biggest set out of all three that were released, with 587 pieces its not a massive set but I think that its a good set that matches the magic, colour and fun that the Madrigal House has in the Disney Movie.
The set is built over three floors and features five separate rooms with each room having little bits in that the owner of the room in the movie would be linked to, such as the purple room with flowers all over it is Isabela's room which matches her power to create plants and flowers.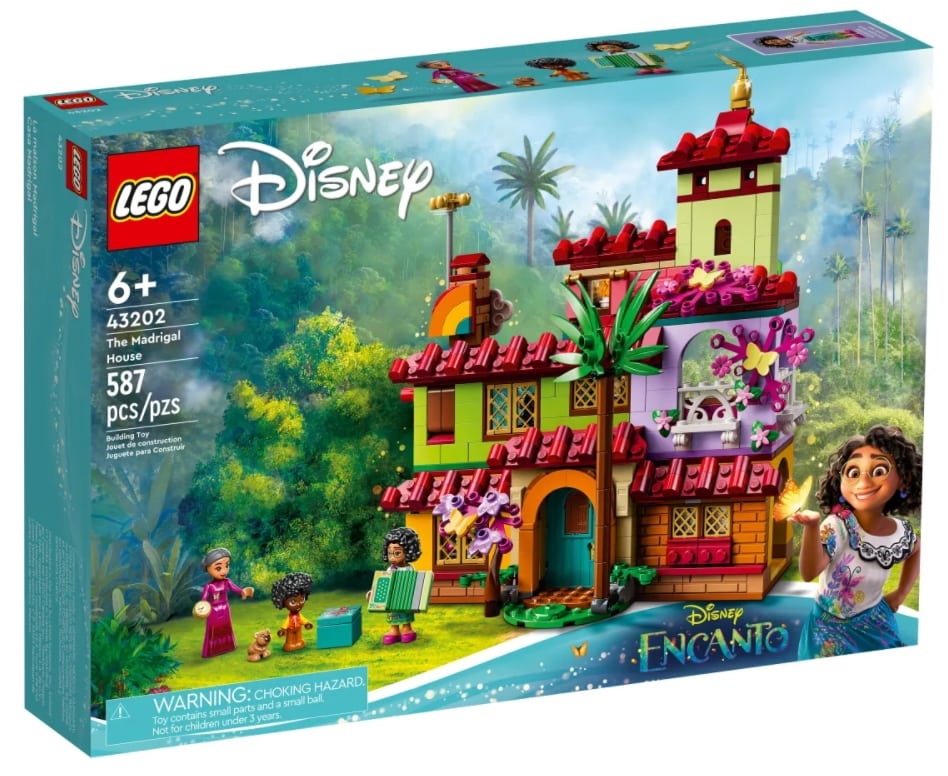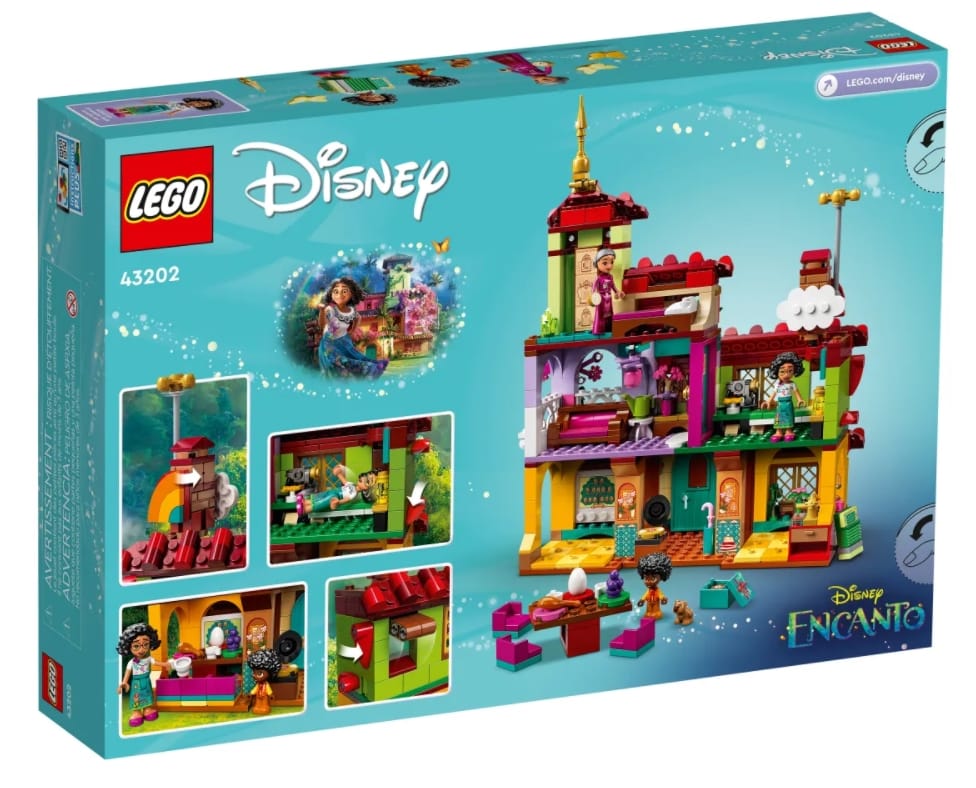 The LEGO® Encanto Madrigal House set comes with a disappointing amount of minifigures, well in fact the figures are mini-dolls and micro-dolls not actually minifigures. I assume that the Madrigal House will be the main LEGO® Disney Encanto set that is released (unless there are more movies perhaps) and seeing the house is a so family orientated I would have hoped to see a lot more members of the family.
However the dolls they do provide with this set are designed well and you can clearly see who they are from the movie, I can see these being really fun for the younger fans of Encanto. LEGO® have done well to keep the fun and play factors in mind when it came to designing these.
The three dolls you will expect to get with this set are Mirabel, Antonio and Abuela (left to right on the below picture)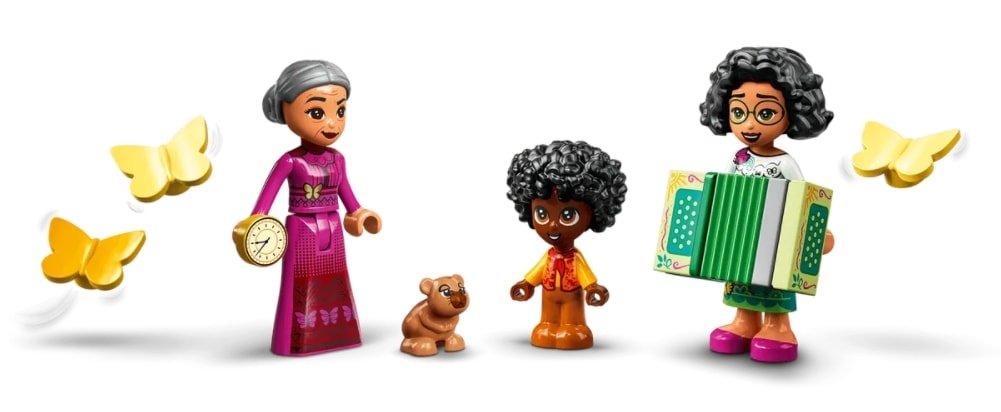 As I have already mentioned this set features five rooms over three floors, with an open back this really increases the ability to easily play with the mini-dolls in each of the rooms.
I love how they have really tried hard to pack in a lot of features in each room, its quite easy to overlook some of the but they are really quite small spaces in each room and balancing look and features has been done well here.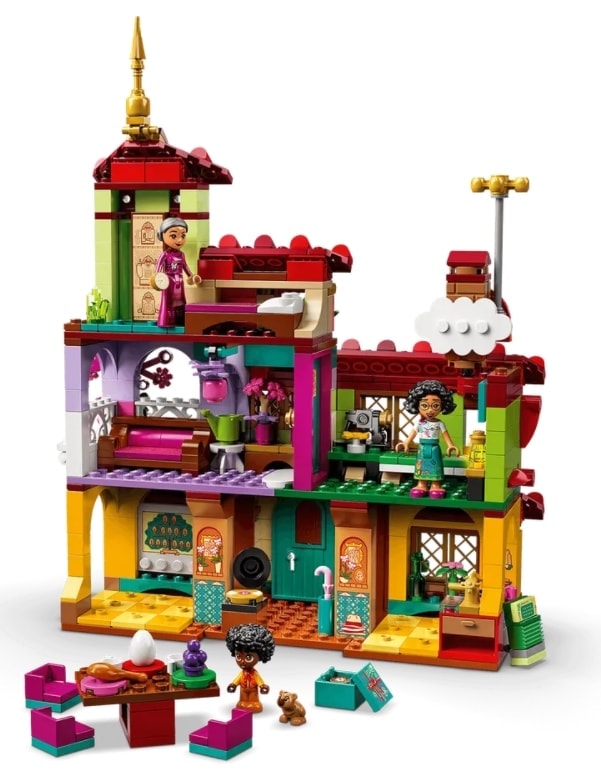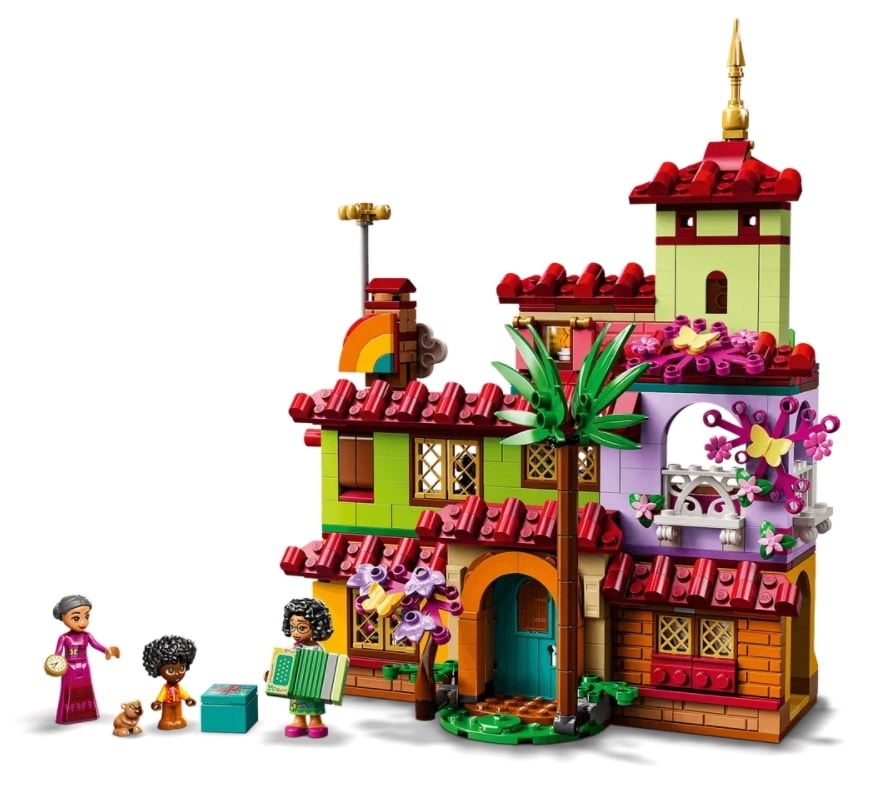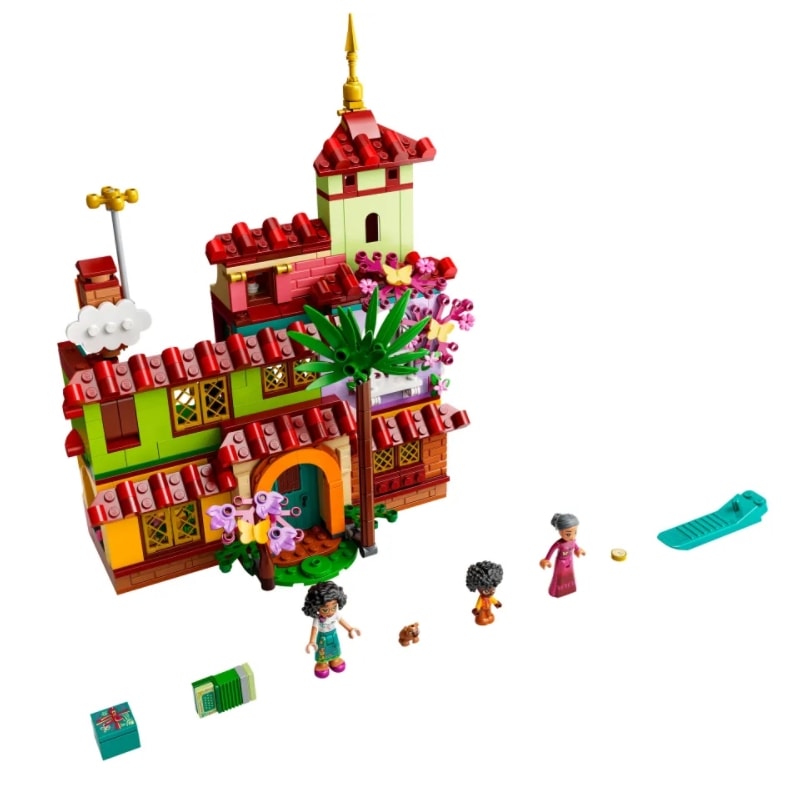 What is the Disney Encanto Movie About?
Disney Encanto Movie Characters
In the Disney Encanto Movie there are 10 main characters, all of these are gifted with a power (even Mirabel). Which character is your favourite? Which power would you pick to be?
Mirabel
Mirabel is the one character who is given a door but did not receive a power.
Mirabel is arguably the most important member of the Madrigal family, although she wasn't given a power like the others she has the ability to bring the family together, to remember the values and reason why they were given their powers and to be happy not feel constantly pressured.
Mirabel's true power is to keep the candle glowing and to ensure the family know how special they are. It will be interesting to see if she will one day replace the duties of Abuela Alma as the house especially responds to Mirabel, there is definitely a special connection that ties Mirabel, the house, candle and family together.
Julieta
Julieta is Miabel's mother and one of Abuela Alma's three children. Julieta was gifted with the power of healing, to use her healing abilities she has to do this through food.
Julieta's ability means that the family and town will never have to worry about sickness or physical harm although the movie only gives examples of her power healing cases where there are broken bones and her accident prone husbands bee stings.
Bruno
Bruno is number two of Abuela Alma's children. Bruno was gifted with the power of seeing the future and although his intentions are always good his power always seemed to end in sadness, because of this Bruno ended up going in to hiding for years.
Bruno hid in the walls of the Madrigal House instead of running away, he loves his family and hated seeing what his power was doing to them but he could also not bear to lose them. Once Mirabel finds Bruno you see that he has been doing everything he can to keep the house from falling apart.
Bruno is portrayed as the villain of the story at the beginning of the movie, the hit song "We Don't Talk About Bruno" is sung by Pepa when Mirabel is trying to find information about Bruno. Pepa blames Bruno for ruining her wedding when later on in the movie you find out he was just worried about her, it wasn't a prediction for bad weather.
Antonio
Antonio is the son of Pepa and Félix, he loves animals so it is fitting that he was gifted with the power to communicate with animals. In the movie we see Antonio communicating with animals such as rats and jaguars.
I do not know whether Antonio is able to speak to all types of animals but we are led to believe he can, this is an incredible power that has the potential to really help the village from protection against predators and I wonder whether animals could help with the daily tasks of the village too.
Isabela
Isabela is the daughter of Julieta and Agustin and sister of Mirabel, she was gifted the power to create plants or otherwise known as Chlorokinesis.
The power that Isabela holds is very special, with it she could ensure that the village never runs out of plant based food and other types of vegetation.
Luisa
Luisa was given the power of super strength which is an incredible power and is very useful within the village, we see her power used to single handily move buildings, bridges and collect donkeys that keep escaping.
Luisa is super strong physically but mentally its breaking her, she constantly takes on the pressures of the village without complaining, she expresses to Mirabel after Antonio was given his power how she is being crushed mentally by the continuing pressures her power brings and she doesn't want to appear weak by expressing her feelings.
Abuela Alma
Abuela Alma does not necessarily have a power but she is the keeper of the candle, it was Abuela Alma who given the miracle that made the Madrigal House and gifted all of the family with their powers.
Abuela loses sight of why the miracle was given to her and because of that the candle's light starts to fade with the family losing their powers as the flame got smaller and finally lost them completely when the flame went out. Abuela is the hidden villain (although she had good intentions) in Encanto.
Pepa
Pepa is number three of Abuela's children and she has the power to control the weather. The only problem with her power is that it is heavily controlled by her emotions so her powers can be a bit unpredictable.
In theory Pepa's power could ensure that the village never runs out of water, that the crops, fruit and vegetables they grow never have lack of sun or rain which is really important.
Delores
Delores has the power of heightened hearing capabilities, whether she wants to or not she hears everything. This power would be great to know if the village is in trouble but it must get tiring constantly hearing absolutely everything.
Camilo
Camilo is the second son of Pepa and Félix, he was given the power to shapeshift which in normal world situations sounds quite cool but I really struggle to see what benefit it brings to the village.
Camilo is a fun loving character who like to get a laugh out of people by shapeshifting in to the people from the village and playing pranks. I assume with Camilo's character they created him as as joker or entertainer to bring laugher and happiness to the villagers.
We Don't Talk About Bruno Hit Single
The song from Disney's Encanto Movie "We Don't Talk About Bruno" has become incredibly popular with it hitting the chart and has been named as the most popular song from a Disney animated movie in the past 26 years which is quite an impressive feat for sure.
The song was written by Lin-Manuel Miranda and is sung by the Disney Encanto cast members Carolina Gaitán, Mauro Castillo, Adassa, Rhenzy Feliz, Diane Guerrero and Stephanie Beatriz.
The last Disney animated movie that hit the charts was the Disney Frozen "Let It Go" song back in 2013 which won an Oscar in 2014 and also hit number 5 in the charts.
Want to see the song from the Encanto Movie? Check it out below.
Disney Encanto Movie Story
If you haven't watched the movie yet I would suggest skipping this part!
The Disney Encanto Movie is based in a small village in the mountains of Columbia, the story starts when Alma and her husband Pedro are trying to flee after their village is attacked. Just outside the village as her husband Pedro sacrifices himself to save everyone a miracle is bestowed on to Alma in the form of the candle.
Upon returning back to the village a magical house is built which is then on known as the Madrigal House, the house has special properties that keep the family safe, this is also where each of the Madrigal children receive their power and their own unique room on their 5th birthday.
Mirabel is the only child who does not receive a power, which makes Alma worried as she thinks the magic candle that was granted by the miracle may be disappearing. Later in the story we find that Mirabel had been given a power, one unlike any of the others, her power was to unite the Madrigal family and save the Madrigal House and village.
If you are interested in detail I would advise to check out the Disney Fandom page, it has every piece of detail you could imagine about Encanto.