LEGO have announced the first look at their new LEGO Loop Coaster (10303) today and what a great addition to the LEGO® Fairground Collection it is! This will be available with VIP early access on the 1st July, those who are not VIP will be able to pick theirs up on the 5th July. With a big drop, two loops and 11 minifigures this LEGO® Loop Coaster is going to be a massive hit, especially for those people that were big fans of the LEGO® Roller Coaster (10261).
LEGO Loop Coaster (10303)
LEGO Loop Coaster 10303 | 3,756 pieces | Available July 1 | US $399.99 | CAN $499.99 | UK £344.99
LEGO Loop Coaster 10303 Press Release
LEGO® LOOP COASTER – PRODUCT PRESS RELEASE
THRILL SEEKERS GET READY FOR THE NEW LEGO® LOOP COASTER
7th June 2022: The LEGO® Group has revealed the spectacular new LEGO® Loop Coaster set. Not for the faint hearted, the new set is a staggering 92cm tall – making it one of the tallest LEGO® sets.
Inspired by some of the world's most thrilling rides, the Loop Coaster is an immersive build filled with twists and turns. Exciting features will be uncovered along the build, including an innovative elevator tower for raising the car up to the top of the ride and two gravity defying loops. Builders can also power up the ride with motorized components, which are available separately, which will raise the elevator up automatically.
Guaranteed to generate a crowd, this playful set also contains eleven minifigures, including a ride operator, balloon seller, pretzel seller, hot-dog seller, a grandma, a young boy, and five rollercoaster riders.
Commenting on the set, LEGO® Designer Pierre Normandin says: "When we were designing this set, we wanted to recreate the feeling experienced when it just begins to tip over the highest point. Perfect for play or display, we are excited to add this set into the LEGO® Fairground Collection.
The LEGO® Loop Coaster set, available from 1st July 2022 via LEGO® Stores and www.lego.com/loop-coaster, at the recommended retail price of 399.99 EUR/ 599.99 AUD/ 344.99 GBP/ 399.99 USD/ 499.99 CAD
Age – 18+
Model measures:
Height: 36 in. (92 cm)
Width: 33.5 in. (85 cm)
Depth: 13.5 in. (34 cm)
Pieces: 3756
Features:
Innovative elevator tower raises the car up to the top
Gravity-driven coaster sends the riders through two loops
Add motorized components (available separately) for the elevator
The latest edition to the LEGO® Fairground Collection
Eleven minifigures:
A ride operator
A balloon seller
A pretzel seller
A hot-dog seller
A grandma
A young boy
Five rollercoaster riders
LEGO Roller Coaster 10261
Did you love the LEGO Roller Coaster (10261), if you did you are not alone that's for sure!
This set is made up from 4124 pieces, a little smaller than the new LEGO® Loop Coaster that is soon to be released.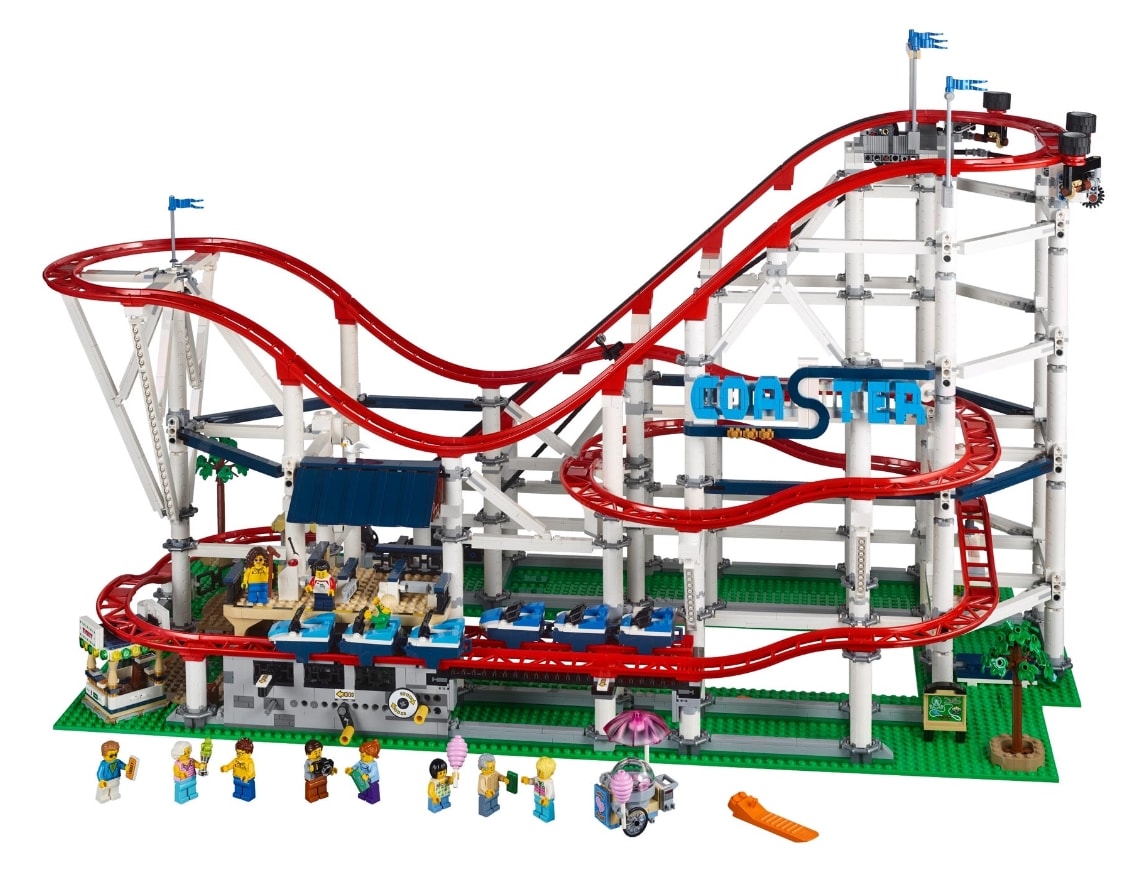 LEGO IDEAS Roller Coasters
There are also other great LEGO® Roller Coasters that have been uploaded to LEGO® IDEAS.
Here are a few of my favourites…
Double Looping Rollercoaster
LEGO IDEAS – Double Looping Rollercoaster
Designed By Nachapon LEGO® Pinball
The Island Pirates Coaster
LEGO IDEAS – The Island Pirates Coaster
Designed By Metalcoaster
Drop Coaster
Designed By Wacky Brick
Wilderness Railroad LEGO® First Drop Track Roller Coaster
LEGO IDEAS – Wilderness Railroad: Lego's First Drop Track Roller Coaster
Designed By Roller Coaster Matt