Everyone's favorite meth-dealing duo is back – this time in LEGO® form! If you're a fan of Breaking Bad or just love LEGO, then you'll want to check out this amazing LEGO® Breaking Bad RV built entirely from LEGO® bricks.
The detail is incredible, whether you look at the windshield, the door, or the fully kitted-out interior the detail is spot on! Who knows – maybe with a little creativity you could build your own Breaking Bad scene using only LEGO.
LEGO® Breaking Bad RV Video
Is LEGO® Breaking Bad Real?
Those of you who know anything about LEGO® will know that they are very particular about the themes they work with.
As Breaking Bad involves drug abuse, and violence and is generally of a mature nature LEGO® will not want to be involved. LEGO® are known for being picky about the sets they release and anything with real-life violence involved is an immediate stamp of disapproval from The LEGO® Group.
Don't give up hope on a LEGO® Breaking Bad set though, there are AFOLs (Adult Fans of LEGO) who create LEGO® MOCs (My Own Creations) which are custom LEGO® designs, and guess what…
There's a LEGO® Breaking Bad RV you can get your hands on and it's just a few clicks away!
Read on to check it out!
LEGO Breaking Bad Crystal Ship RV
The LEGO® Breaking Back RV or otherwise known as the LEGO® Breaking Bad Crystal Ship was designed by LEGO® designer TheUpSideDownBrick.
This LEGO® MOC is made up of 814 bricks and was designed with inspiration taken from the popular Breaking Bad series.
It was designed to not only look great but to be functional as well and the interior is kitted out with things you would expect to see from the episodes.
LEGO Breaking Bad RV Exterior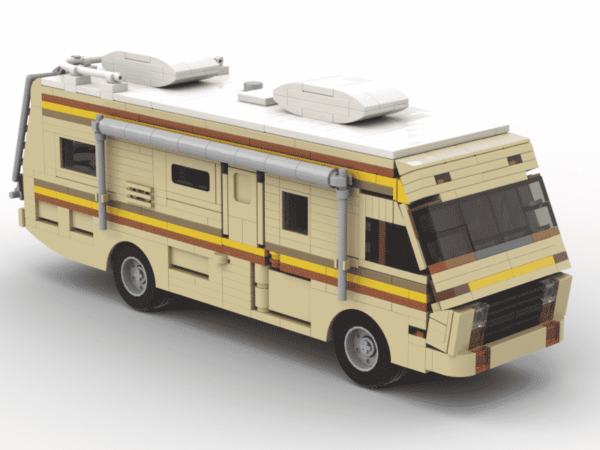 The exterior of the LEGO® Breaking Bad RV MOC has been designed to capture the shape, color, and finer details of the RV, details such as the awning and air vents on the top are great additions to this MOC.
If you wanted to really make this MOC match the series you could always add some bullet holes in the door!
Inside the LEGO® Breaking Bad RV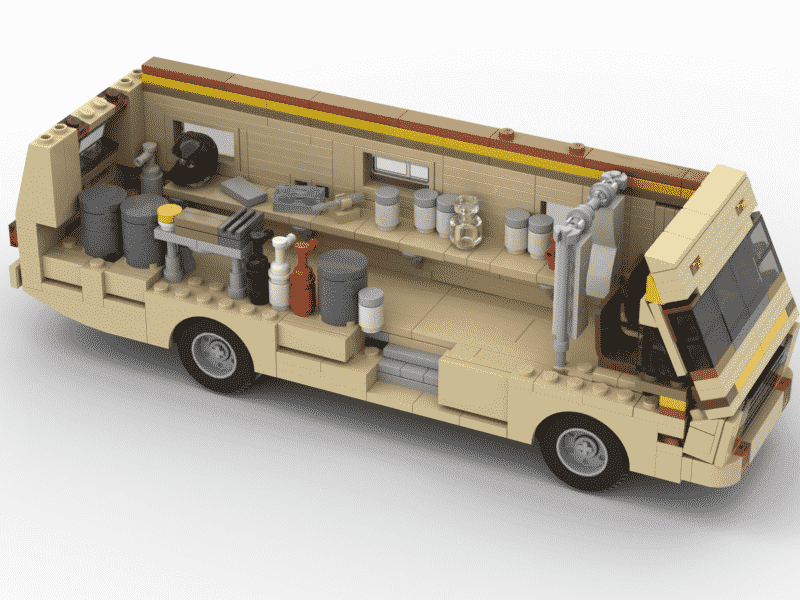 The interior of this LEGO® Breaking Bad RV MOC features tools, materials, and apparatus that Walter White and Jesse Pinkman would have used when they took a trip to the desert and started cooking.
You will notice that common LEGO® pieces have been used to fill out the interior of the RV which is great as it helps keep the price of the bricks at a minimum.
The LEGO® Breaking Bad RV has been designed to the scale of a LEGO® Minifigure and with the top and one of the sides removable it adds in the additional feature of easy access to place your minifigures however you wish.
LEGO Breaking Bad RV Animation
This animation was designed and rendered using software called Stud.io, not only is it just a cool animation of the LEGO® Breaking Bad RV being built but it also gives all of you LEGO® and Breaking Bad fans an idea of how you will be building your own Breaking Bad RV in no time at all.
LEGO Breaking Bad Video Game
There have been a lot of discussions about whether there will ever be a LEGO® Breaking Bad video game, fans of the series would love to play a GTA-style game playing as the Walter White or Jesse Pinkman characters.
Unfortunately, it just isn't going to happen but maybe you will get some enjoyment from the below Parody YouTube video which was uploaded by IGN News.
Conclusion
It is sad that we will never see any official LEGO® sets within a Breaking Bad theme but it isn't surprising, with the series being as eventful as it is there is a potential for a log of different sets to be designed.
Thankfully we have talented LEGO® MOC designers such as TheUpsideDownBrick who are fans of these series and can use their skills to fill the gaps in design genres and themes.
This LEGO® Breaking Bad RV is a well-designed MOC by an experienced LEGO® MOC designer so pick up yours today and take your love for Breaking Bad to the next level!