Description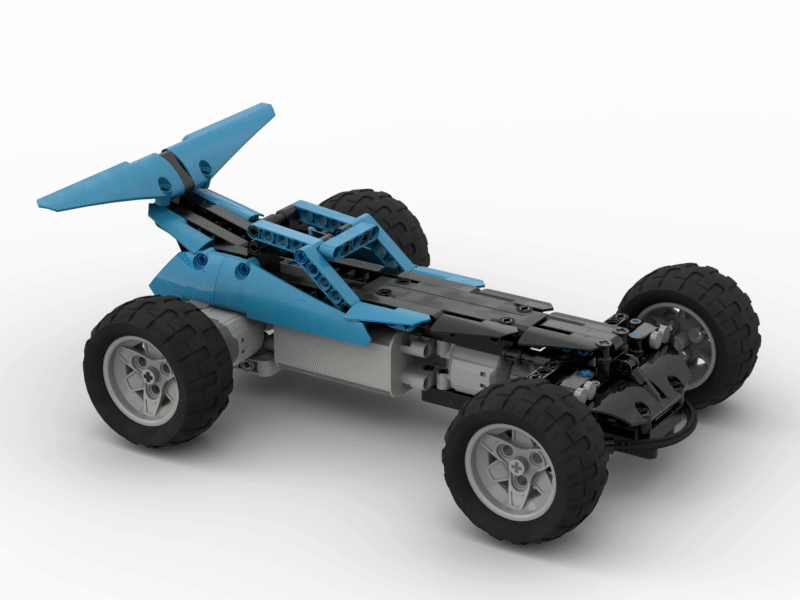 This one wasn't developed from scratch, it is an enhanced version, or revision of another MOC i released previously, the "Dirt Devil", which is an alternative model for the technic set 42095.
This version improves certain aspects of the original, because since it was a pure C-Model, i was limited by the parts available on the set and had to make some sacrifices.
Some things remain the same, like using one l-motor for the steering (with return to center functionality); using another l-motor to directly power one of the rear wheels, and the overall design and parts placement.So, what changed?
– The "tracked wheels" were replaced with off-road tires, solving all traction issues.
– The small front wheels were replaced with bigger wheels, fixing the low ground clearance in the front.
– Additional liftarms and frames were added for increased stability.
– The front spoiler and hood were reworked.
– The rear spoiler was reworked and became bigger.
– The side mirrors were taken off i didn't think they added much value to the design given the number of parts they required.
Hope you like this MOC and have some fun with it!



NO PHYSICAL BRICKS, ONLY DOWNLOADABLE CONTENT
With the purchase of this object you only purchase downloadable PDF instructions and
Parts List