Update Your PayPal Email Address
If you need to change your PayPal email address or perhaps you entered it incorrectly during the vendor registration process do not worry, it's really simple to update. The below step-by-step guide will help you update it.
1. If you have not done so already, log in to the Belle-Ve Bricks website.

2. Now hover over the 'Vendor Area' link in your menu and click 'Vendor Dashboard'.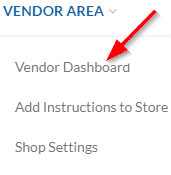 3. Click on 'Settings' from your vendor dashboard menu bar.

4. You will see a 'Payments' tab, click this.

5. The last step is to enter your PayPal email address and click save.