About Matthew Mitchell
Hello there, LEGO enthusiasts and curious minds! I'm Matthew Mitchell, your fellow Adult Fan of LEGO (AFOL), and the proud founder of Belle-Ve Bricks. Nestled in the heart of the UK, I have been ardently constructing, deconstructing, and innovating with LEGO bricks since my childhood.
A Bit About My LEGO Journey
My love for LEGO was a seed sown in my youth, watered by hours spent navigating instruction manuals, aligning bricks just right, and feeling that profound satisfaction when the final piece clicked into place. When my two children discovered LEGO, their blossoming fascination rekindled my own dormant passion, and together, we plunged headfirst into the mesmerizing world of LEGO My Own Creations (MOCs).
The game changed for me entirely in 2015 when I stumbled upon LEGO MOCs. I found myself enthralled by the seemingly limitless creativity these individualistic creations represented, inspiring me to delve deeper into this dynamic, ever-evolving sphere. This fervor culminated in my decision to help talented LEGO designers showcase their skill and imagination. I wanted to offer a platform where the spotlight could shine on these creators, illuminating their extraordinary work for the world to see.
Introducing Belle-Ve Bricks
And so, Belle-Ve Bricks was born – a platform dedicated to sharing the unique and innovative creations of talented LEGO designers worldwide. The mission of Belle-Ve Bricks is twofold – to nurture a community of passionate LEGO MOC enthusiasts and to provide the support and exposure that dedicated designers deserve.
A Glance at My Personal Creations
Of all the LEGO MOCs I've had the privilege to construct, Brickheadz MOCs hold a special place in my heart, especially those that I started out with. You'll find a visual treat awaiting you below, where I've shared some of my all-time favorite Brickheadz MOCs. I invite you to take a look and indulge in the joy of creativity with me!
My Aspiration for Belle-Ve Bricks
As we move forward, my vision for Belle-Ve Bricks is to continue nurturing this fantastic community, offering more opportunities for LEGO enthusiasts and designers alike. I look forward to fostering an environment that both inspires and facilitates creativity, keeping the spirit of imagination alive and vibrant.
Connect with Matthew Mitchell
I invite you to join me on this marvelous journey. Subscribe to our newsletter to stay updated on the latest Belle-Ve Bricks developments and featured creations. You can also find me on Facebook, Instagram, and Twitter, where I share exciting LEGO news, design inspiration, and sneak peeks into my personal LEGO adventures. Here's to more LEGO magic, together!
Thank you for your interest in Belle-Ve Bricks and my journey as an AFOL. I can't wait to see where this creative path leads us.
Yours in LEGO,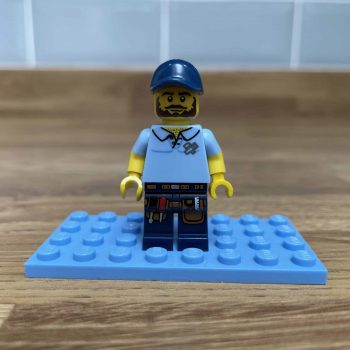 Matthew Mitchell